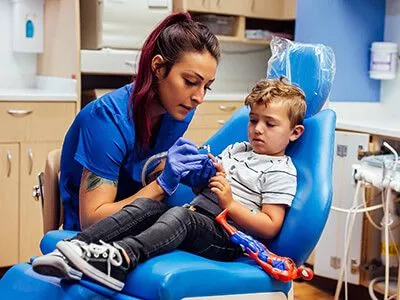 At Marin Pediatric Dentistry, we believe that if children can have fun while developing a positive dental outlook, they would be more likely to maintain good oral health for a lifetime. That is why, in support of the guidelines of the American Academy of Pediatric Dentistry (AAPD), we recommend that children should visit a dentist by their first birthday. Early involvement in a primary prevention program can keep your child's teeth healthy and help in the prevention of cavities. We also provide anticipatory guidance so you know what to expect in the next 6 months until your child's next visit.
PREPARING FOR YOUR FIRST VISIT
Before the initial visit, get them excited about their appointment as a sign of growing up. Tell them that they will be going to see Dr.Aghi or Dr. Ta and that she will be counting their teeth and cleaning them. It is best to refrain from using words that may cause unnecessary fear like needle, pull, drill, hurt. Let Dr. Aghi or Dr. Ta and her staff explain the procedure to them in a language that is age appropriate.
We understand that every child is different and treatment will be based on each individual child's needs. Our office is unique because we encourage parents to accompany your child during their initial visit and treatment. Our staff is highly experienced in helping your child overcome apprehension and will do their best to make it a positive dental experience.
PREPARING YOUR CHILD
Once you enter our office, you will see all the "fun toys" that make the office entertaining and friendly, even for the most apprehensive child. Our office is equipped with iPad's, Movie glasses, Lego table, games, books, stuffed animals and a giant LiteZilla in the waiting room, catering to all ages.
Our office has thoughtfully chosen not to utilize electronic distractions during their cleaning appointments. This enables your child and you to participate in learning how to best care for their teeth and ensure a lifetime of good dental habits.
If your child requires further treatment, we offer individualized, state-of-the-art 3D movie glasses and your child will have the option of choosing from a variety of up-to-date movies to watch while in the chair. Our x-rays are done digitally.
WHAT TO EXPECT AT FIRST VISIT
The purpose of this first visit is to establish a positive relationship with your child's dental health as a guide to future treatment.
Usually during the first consists of:
Examining teeth for cavities, checking the health of the gums & evaluating their bite
Education and enforcement of good oral health habits
Based on exam, x-rays may be recommended or taken
At this or next appointment, your child's teeth are cleaned and a fluoride treatment may be given
If further treatment is necessary, options will be discussed with parent(s). We make every effort to pre-authorize and estimate any out of pocket cost prior to proceeding with any dental treatment. However, remember, that you and not your insurance carrier are ultimately responsible for payment of services rendered in our office. We will work with you to maximize your insurance benefits. Please bring your insurance cards and information to the first appointment.
Please be aware that the parent bringing the child to our office is legally responsible for payment of all charges.
Our ultimate goal is to provide the finest quality of dental care for your child. We appreciate that the cost of dental treatment can be overwhelming and we will make every effort to make sure you understand the need for treatment and are comfortable with every procedure rendered.
Motivational Charts
Your child will enjoy healthy dental habits when they use these Motivational Charts. Encourage regular brushing or help them break the thumbsucking habit.
Activity Sheets
Want something fun to do? Print one or all of the below Activity Sheets to see if you can conquer the Dental Crossword Puzzle, find all of the Hidden Toothbrushes, Unscramble the Dental Words, or find the Hidden Dental Words. We know you can do it!