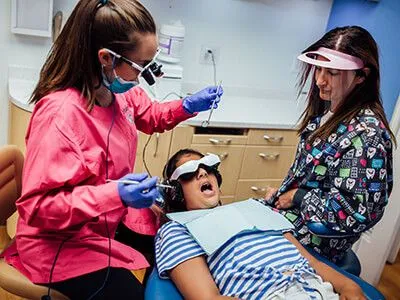 We appreciate that the cost of dental treatment can be overwhelming and we make every effort to make sure you understand the need for treatment. Most importantly, that you are comfortable with every procedure rendered.
As a convenience to you, our staff will assist in processing your insurance claims electronically. Please bring your insurance cards and information to the first appointment.
New Patients may be asked to pay for the first visit at the time of the appointment if adequate insurance coverage is not provided.
Payment or any co-payment is requested at each appointment as service is rendered and can be made by cash, check, Visa, MasterCard, American Express or CareCredit.
Dr. Aghi is contracted with Delta Dental Premiere and Dr. Ta is not contracted with Delta Dental.
Having dental coverage can make getting the dental care your child needs easier. It's important to understand that most dental insurance plans do not cover all dental procedures. When ultimately deciding on your child's dental treatment, dental benefits shouldn't be the only consideration.
You should be informed and know what your dental plan covers and what it doesn't. It is also important to know what type of policy you have, HMO/DMO or PPO. An HMO/DMO requires you see an assigned dentist within their network. Policies that are PPO allow you to see the dentist of your choice.
Ultimately, your child's treatment should be determined by you and your child's dentist--not by your level of dental coverage.